Table 3 shows the most important shipping line services and routes for container ships with porthole containers. For various reasons, the partners involved in the individual services, the ports and cargo output are constantly changing. In the year 2000, 90 vessels were still used to provide these services.


Table 3: The most important shipping lines and routes for container ships with porthole containers


Figure 9 reveals more detail. It shows that there are also a number of minor services, such as Australia/New Zealand - Persian Gulf or Europe (Mediterranean) - Venezuela, which employ a small number of ships and are thus less well-known.
On the other hand, it is clear that a service between Europe and Australia, for instance, travelled around Africa without calling at South Africa. Due to the different heights of the various porthole containers, these services cannot simply be swapped.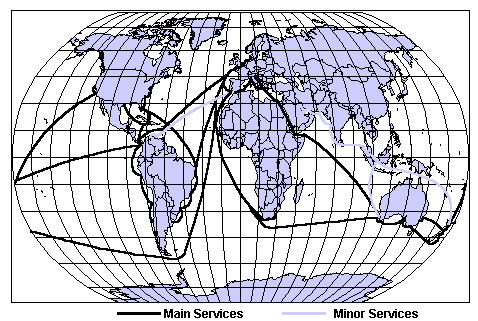 Figure 9: International porthole container services (status 1996 - since then, the service on the Australia-New Zealand-US West Coast route has already switched to integral containers)


The refrigerated cargo on these services is primarily meat, fish and a small quantity of fruit, mainly seasonal fruit, which means that 20' porthole containers were used almost exclusively. The CAROL service (Caribbean Overseas Lines, begun in 1977) was the first to use 40' porthole containers, since fruit is the main refrigerated cargo exported from the Caribbean. Subtropical fruit, such as bananas, pineapples, mangos, melons and avocados are transported all year round with this service. This was followed by the CGM banana service and the EUROSAL service, both of which also use 40' porthole containers since they have a similar refrigerated cargo mix.

In the Australia service, for instance, meat provides a constant volume refrigerated cargo, while seasonal fruit provides additional cargo in the months from December to June and requires clip-on units for porthole containers and increasingly integral containers on deck during peak periods.