By using the cargo information, consignor and receiver can ensure that optimum transport conditions are provided for the widest possible range of products with regard to all areas of risk.

The database may be of use to all transport professionals when putting together integrated transport chains, in particular within the container transport system.

Data evaluation also allows optimum, tolerable and harmful transport climates to be determined for transport-sensitive goods (see Fig. 66).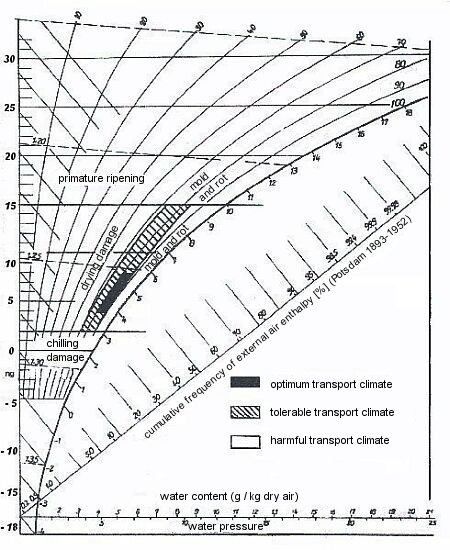 Figure 66: Optimum, tolerable and harmful transport climates for oranges


On the basis of these considerations, it is possible to derive approaches to improving the quality of the transport process, such as with regard to the instrumentation to be used for monitoring the goods in the warehouses or during packing of the containers and finally on continuation of the transport chain as far as the consumer.

Goods can be rendered fit for container transport by taking account of the individual transport information relating to loss prevention. Fitness for container transport may depend on the season or the route the cargo will take over land or sea. It must be adapted to the conditions of the transport route.

The cargo information may also be helpful when considering how best to utilize a standard container or the possible use of other container types.

The suitability for transport or fitness for container transport of a product may be assessed on the basis of a systematic approach to the goods which takes account of the necessary storage climate conditions, which are based essentially on the water content of the goods, which interacts with the humidity and temperature conditions, ventilation and concentration of harmful substances. This database may form the basis of a consultancy system, providing a service ranging from advice for transport customers to establishing the cause in the event of cargo damage.

The consequent minimization of loss may have a very positive effect on a company's commercial and economic results and likewise on customer relations.