Fig. 30 provides an overview of the variation in air, water and dew point temperature on the route from Rostock to West Africa and the anticipated temperatures of the cargo in the container on a ship making an outward and a return voyage in the month of November.

The external air temperature (TA) was taken from a measurement series from a ship in transit, while water temperatures and their changes were brought into line with existing measurement series in order to reveal the interrelationships:
On the outward voyage, the air temperature rises from 4°C in Rostock to 26°C in Conakry. The temperature of the cargo surface (TLO) rises from 2°C to 16°C. Cargo sweat must be expected on the "outward voyage", because the surface temperature of the cargo is lower than the dew point of the external air (TLO < A).


On the return voyage, the external air temperature drops relatively rapidly (> 6°/d) due to the distance traveled and the weather conditions, as a result of which the cargo in the container often cannot adapt rapidly enough to this change in temperature. Clearly, as the container is cooled in the external air to below the dew point temperature of the air (L), container sweat is formed, especially on the container ceiling, from where, once sufficient sweat has formed, it drips down onto the cargo.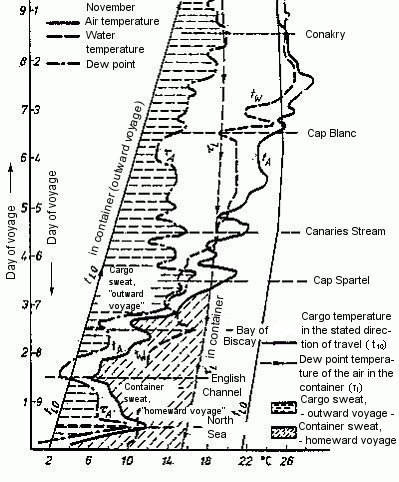 Figure 30: Variation in air, water and dew point temperature on the route from Rostock to West Africa and anticipated temperatures of the cargo in the container on a ship making an outward and a return voyage;
U. Scharnow [43]